Electricians for Prestige Home Designs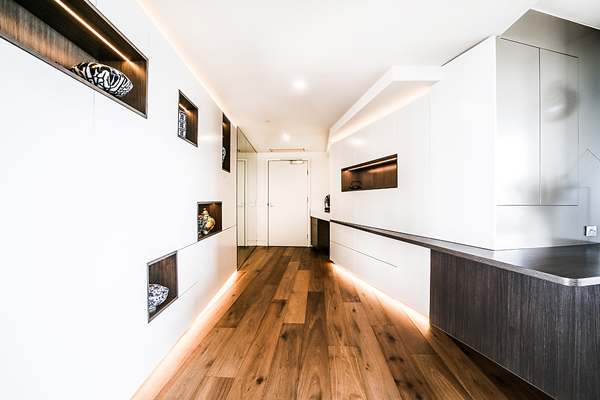 Creative consultants to offer clients future planning during construction
Electric Scheele will work in conjunction with architect, builder and client to create an impressive overall electrical system to offer highly technical and aesthetically pleasing electrical solutions for their residential dwelling.
From high end home automation systems to specific A/V and lighting that reflects the client's personality. Our automation systems use the very latest smart phone technologies. We choose to use fixtures and fittings that compliment and highlight the home design- with an understanding of the client's personal taste- when only the most exclusive will do.
Our installation services for residential projects include:
Full home automation
Using the latest technology, we are able to design an automation system to suit the client's needs for their build. We will consult and recommend specific products and design layouts to optimise the system and create the best aesthetically pleasing outcome.
Security and access
We install and integrate a large range of security systems that involve intercom, security cameras and automated gates that will offer piece of mind from a security stand point for the client.
Communication and data
Installation of phone and data outlets to offer the home owner the latest technologies and fastest data speed available in the location. The design and installation of all entertainment outputs to offer the optimal use of entertainment and technology in the home design.
Energy efficient smart home technology
Our team are qualified to install solar power systems from invertors to the solar panels on the dwelling's roof.
Inside the house we can install energy efficient heating/ cooling systems and energy efficient lighting.
Audio Visiual (A/V)
The design and installation of all entertainment outputs to offer the best value in the home design including television outputs that will coincide with surround sounds systems both indoor and outdoor entertaining areas.
Lighting indoors and outdoors
Creating the home owners' vision by using stunning lighting designs for footpaths, swimming pools and beyond into the whole outdoor area.
Inside the house we will create a lighting plan that is designed to compliment. From installing down lights to lighting that will highlight intricate details of the house design, to statement lighting throughout, which will be functional and eye catching.
3 phase power installation and full wiring projects
Our consultants will offer the installation of 3 phase power if necessary as this will allow the home owner more output of power and distribution to give the freedom to operate their prestige home on a larger scale.
Our team also maintain and offer a wide range of regular electrical services:
Conduct safety inspections
Install and service smoke alarms
Upgrade wiring and switchboards
Rewire homes during renovations
Test for faults and restore as required
Contact Us Today